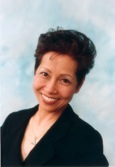 Dr. J. Peggy Adeboi maintains a private practice in San Francisco as an Energy and Spiritual Therapist. She leads transformative workshops in spiritual healing, grief and loss, relationships, wellness, dreamtending, creative expression, and customized retreats.

She received her MA in Divinity & Certification in Spiritual Ministry and Sufi studies from the University of Spiritual Healing and Sufism, and is a Certified Healing Touch Practitioner.

Dr. Adeboi acquired her MA degree in Transpersonal Psychology and Creative Expression from ITP. She works with dreams and creative expression, and received her clinical training in DreamTending from Dr. Stephen Aizenstat, founder of Pacifica Graduate Institute. She weaves movement and Creative Expression into the experiential work of DreamTending ~ creating an intimate relationship to the living images of dreams. She helps people discover how to create their unique healing path to transform illness and emotional suffering into hope and living a life of joy, love and beauty.

She co-founded a Center for Bereaved Children in San Francisco; created Energy and Dream Circles; serves on the Palo Alto Sufi Planning Circle; and is a member of Healing Touch International.

Her PHD in Art History and 20 years of experience working with art images find new application in the exploration of the imaginal realm.

Teaching positions include: University of San Francisco; University of Missouri, St. Louis; St. Louis University, and Maranatha Christian University in Bandung, Indonesia.